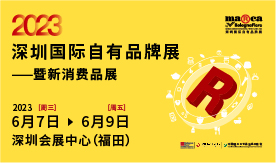 The upcoming edition of the Marca China International Private Label Fair (aka 'Marca China') takes place from June 7-9th, 2023, at Shenzhen Convention and Exhibition Center (Futian). It is expected to attract over 500 exhibitors from various countries and regions, including China, Italy, France, Japan, South Korea and Southeast Asia, and 15,000 professional buyers and visitors, covering a total exhibition area of 22,000 square meters.
Given the current new consumption trends, Marca China maintains its focus on innovation and the development of private labels. It strives to create its own private labels that dovetail with the needs of new consumer groups and new lifestyles, based upon its principle of 'developing private labels to interpret the essence of new consumption in the new era of global retailing'. The Fair not only helps expand distribution channels and create business opportunities for manufacturers and suppliers, but also serves as a one-stop platform for product sourcing and selection, enabling retailers and brand owners to facilitate their upgrading of existing products and expansion of product category.
On-site exhibits at the Fair mainly feature private label products in six categories: food, organic products, home and leisure, personal care, pet products, and packaging design. The Fair also provides a plethora of professional buyers, ranging from shopping centers and malls, supermarkets, convenience stores, brand owners and operators, specialty stores, new retailers, e-commerce platforms, social commerce platforms, live-streamers, hotels, restaurants and catering services, wholesalers, distributors, agents, and import and export traders, an opportunity to select their partners through business matching-making to develop their own private label businesses jointly.
Marca China is organized by BolognaFiere China Ltd., a wholly-owned subsidiary of the Italy-based BolognaFiere Group, in collaboration with the Shenzhen Retail Business Association and the China Chamber of Commerce for Import and Export of Light Industrial Products and Arts-Crafts. Its parent exhibition, Marca by BolognaFiere, is a leading international trade show in Europe that has successfully held its past 19 annual events, and is set to hold its 20th edition from January 16-17th, 2024, in Bologna, Italy.
A Trend-Setting Industrial Feast for Private Labels, Featuring a Comprehensive Range of Premium Quality Products
Marca China accommodates a variety of daily consumer products-specific R&D, design, and manufacturing enterprises, thus being able to showcase not only a wide range of common private-label food products, such as snacks, confectionery and baked goods, and agricultural and side-line products, but also various household products, including kitchenware and bathroom supplies, cleaning supplies, home textiles, and personal care and other disposable products. In addition, the Fair is also dedicated to diversifying numerous new private label products that dovetail with varied consumer needs in the context of new consumption, such as the following: organic products and healthy, functional foods that contain essential nutrients and offer health benefits; tea, coffee and alcoholic beverages that cater to the lifestyle of young people; prepared and instant foods whose market has seen rapid growth as a result of post-pandemic home-bound lifestyles; beauty and hair products benefiting from a booming beauty-driven, self-pleasing economy; pet food and supplies driven by the rapid growth of pet product market. In addition, the Marca Creation & Design Hub specifically features a variety of new, trendy and IP-based packaging designs to enhance the visual impact of products and strengthen brand images.
Where Key Players, Both Old and New, of Private Labels Join Hands to Seek Mutual Development Through Cooperation
Marca China offers all business entities and enterprises intended to set their foot in the private label segment, whether they are shopping centers, malls, supermarkets and convenience stores that have long before established their presence and own niches in the field and set strategic business goals regarding private label development, or brand owners, brand operators, specialty stores and e-commerce platforms that have joined halfway through the race, or new market entrants, such as hotels and restaurants, social commerce platforms and live-streaming KOLs, an opportunity to gather, connect and actively engage in business match-making and various product selection events.
A Range of Exclusive Professional Programs and Activities to Help Keep Attendees Updated on the Latest Industry-Wide News and Trends
· SPECIAL SECTOR
The Trendy Zone will display the latest overseas private label products and delivery the new trends for the Chinese retail industry with leading Chinese and international agencies.
Marca Creation & Design Hub specifically features a variety of new, trendy and IP-based packaging designs to enhance the visual impact of products and strengthen brand images,
E-Marca, which encompasses a plethora of new sales channels, including major multi-channel networks (MCNs), and social commerce platforms, aims to explore new solutions for e-commerce marketing and achieve traffic monetization via the promotion of best-selling products through live-streaming and private-domain traffic operations.
· PROFESSIONAL FORUM-
The Conference Programme, centers its agendas around the latest industry trends, trending topics and crucial issues regarding the private label industry. It serves as a communication platform for participants across the entire supply chain to share industry-specific international news and information and their visions of future industry outlooks.
· CONCURRENT EVENT
Marca Mart, a pop-up boutique supermarket featuring an array of best-selling products, aims to offer an immersive product selection experience.
Retailer Brand Area presents a collection of all the retailers' latest private-label products launched within a year prior to the exhibition in an effort to help keep attendees informed of the latest domestic and international industry-specific updates and trends.
A Platform to Boost Domestic and International Trade and Maintain Dual Circulation of Economy by Leveraging China-Europe Ties
Marca by BolognaFiere Private Label series exhibition serves as a liaison between the private label markets in both China and Europe, as well as a bridge of cooperation between major global private-label retailers and suppliers. The parent exhibition of Marca China, Marca by BolognaFiere features private label products in four categories - food, non-food products, fresh products, and packaging technology, and manages to attract an average of roughly 1,000 exhibitors and 20,000 professional visitors annually, with a total exhibition area of 50,000 square meters. Meanwhile, Marca China can facilitate domestic Chinese enterprises to achieve and maintain the dual circulation of domestic and international trade by leveraging its parent exhibition's international prominence and resources.
Visitor registration is opening for Marca China 2023. For more specific details, contact the fair organizer.